Home | About us | Music | Venues | Churches | Links | Calendar


The Rudgate Singers at the Church of the Holy Souls in Scunthorpe (above),
with Fr. John Cahill - Parish Priest (right).
We are an ad-hoc choir with the emphasis on restoring Sacred Music to church services in its liturgical context as opposed to the concert hall or recording studio. Members, who are all volunteers, are at present based in the North of England and in Scotland.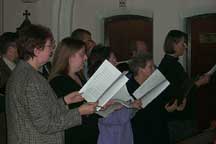 We normally sing four to five times a year at specially arranged services,and, annually, a Christmas Carol service based on nine lessons and carols.. We would like to increase this to sing for other services and in more locations throughout the UK. We are therefore looking for more people to join us.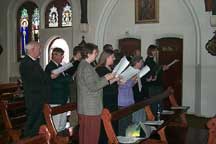 The choir is Catholic in ethos, though many of the singers are from other churches, mainly Anglican. Anyone who wishes to sing traditional church music in its original liturgical setting would be made very welcome. Attendance varies from event to event, depending on the voices needed and the location of the churches where we sing. There is no commitment to sing for every service, though the more people can manage the better!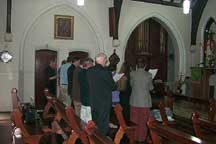 Our repertoire consists mainly of Gregorian Chant and Polyphony, and we occasionally join forces with other groups to great effect.
Music we have sung so far include masses by Palestrina, Victoria, including both Requiems for 4 & 6 voices, Byrd (3, 4 & 5), Mozart, Haydn and several others & as well as several motets by these composers and many more!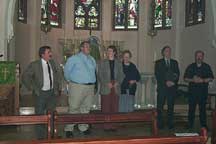 To